We earn trust with every job because we've fixed foundation problems for homeowners just like you in our area for a long time. Our organization consists of professional foundation and basement repair experts. You can count on Stabil-Loc to always give you a free, no-stress evaluation and written repair estimate for our customers who need foundation repairs.
If you are concerned about safety and stability, you should know that, your foundation is the most structurally significant part of your home, which means it is critical to request a knowledgeable foundation expert to take a look at any potential foundation damage. You'd be hard-pressed to find a more professional and reputable foundation repair company in our area. Your local Stabil-Loc Authorized repair crew will treat your home with respect and complete all work on your foundation with care, as if we were fixing our own home. Please call Stail-Loc today for all your Foundation Repair and Basement Waterproofing needs!
Cracked foundation skirt
Unever floors
Foundation Repair
Mildew and mold growth
Basement water intrusion
Crawlspace problems
Sinking foundation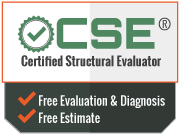 We Can Keep Excess Water Out of Your Basement with a Simple and Reliable Exterior Membrane
A waterproof membrane is installed on the exterior of homes that have problems with excess precipitation or runoff seeping in due to wall cracks or cove joint leaks. Excess precipitation can also get in through basement windows and porous concrete. The exterior membrane is installed over the outside of the foundation walls and allows moisture to a drainage channel. Water in the channel is sent into a sump pump where it will eventually be pumped out and away from the home.
You can increase your home's overall value by seeing to the stability and integrity of your home's foundation. A strong, stable and secure structure is vital to maintaining your home's market value. As a responsible homeowner, we encourage you not allow foundation problems to linger. It is our sincere hope you will call us today so that we can help you assess your foundation's problems and provide you with a prompt repair estimate.
The Stabil-Loc team are happy to provide foundation repair services to our valued customers in our area. So please contact us for foundation repair help today. We earn trust with every job because we're standing by ready to help with the individual structural needs of our valued customers in your local area. We will always provide certified and insured foundation repairs.
We've help countless our area homeowners over the years. If you have experienced uneven or sagging floors in the first floor of a house, musty odors emanating from the basement, insects and pests are colonizing your crawlspace, water standing around the footing of the home, cracked brick on the outside of your home, puddles of water on the basement floor, visible cracks on the interior drywall, windows and doors that are hard to open or close, baseboard and floor separation, or a noticeable sinking of one or more sides of your home , our helpful and experienced staff is here to help. We are your local Stabil-Loc insured & licensed structural pros.
Are You a Mold Farmer? Health Problems Associated with Mold in Your Basement or Crawlspace
The Importance of Waterproofing Your Basement or Crawlspace 
Standing water can result in the growth of the growth of mold and mildew in any area of the home. Water seeping into your home's basement or crawlspace and collecting in stagnant pools are some common causes for the growth of mold and mildew in your home's crawl space or basement. It is crucial for you to be on the lookout for signs of the growth of mold and mildew in any area of your home, when one considers that it can give rise to a wide range of health problems for homeowners and their families.
Allergies
Allergic reactions can be started by mold spores in the air as well as black mold. Those with a weak or sensitive immune system will in most cases experience suffering from these allergies immediately or a little time after the first exposure. The severity of the allergic reaction is nearly always proportional to the severity of the black mold growth . Common allergy symptoms include mild-to-severe headachesred eyes, development of rashes including hives on skin, cough and cold symptoms, concentration and memory problems, lethargy, and nausea. Even in the absence of allergies, there is production of toxins in the body called mycotoxin, which may lead to eye, nose or skin irritation.
Respiratory Infections
Those suffering with ongoing lung issues may suffer from infections of the respiratory tract as a result of even short term exposure to black mold spores. Due to the toxic odor, many people in this situation can also begin to experience acute reactions , for example, respiratory issues and fever. Some of the more common respiratory problems include tightness in the chest, uneasiness in respiration, asthma, and even in some rare cases bleeding in lungs.
Pain and Urological Issues
In cases of long term exposure to molds, people also suffer pain as well as functionality issues related to their disgestive systems and urological areas. In many area homes, the residents complain of numerous issues including but not limited to pain in internal organs such as liver, problems in urination, urinary tract infections, and digestion problems.
Eye Problems
There are numerous potential medical issues of the eye that are caused due to allergic reaction resulting from exposure to poisonous black mold. Redness, itchiness, inflammation and irritation are the most common symptoms of an allergic reaction with the presence of mold. It is wise to ask a medical professional about mold reactions. Over-the-counter eye drops, common cold compresses and antihistamines can provide relief from these discomforting symptoms.
Lung problems
Exposure to mold or breathing in air infected with mold spores can give rise to a wide variety of lung problems such as Hypersensitivity Pneumonitis, Aspergillosis and Lung Fibrosis. Individuals affected with such issues can experience tightness in chest, acute chest pain, and an increased amount of phlegm. The immune system produces larger amounts of mucus in order to lower the amount of mold spores entering the lungs, and expel them out of the lungs through phlegm.
Taking care of a mold problem in your house is vital for your family's health. If you or your neighbors needs help with a potential mold problem, or if you have seen signs of potential foundation or drainage problems, please call us right away!