We are proud to have assisted concerned homeowners in our region for over a decade. Our organization consists of friendly home repair experts. We will provide our valuable customers with a written evaluation and written repair estimate for customers who need help.
If your home has any common foundation problems, we would like to remind you that, your foundation is the most critical part of your home, and so it is absolutely necessary to ask a dedicated and friendly foundation professional to take a look at any potential foundation damage. Our professional foundation repair crew will work to restore your home's foundation to its original stability in a professional and timely manner. Everything we do is licensed, insured and guaranteed, so please let us help you relieve that stress today. Please contact us right now and we'll schedule a free foundation evaluation at a time of your convenience.
Home foundation issues
Sinking foundation walls
Mold and mildew
Basement Waterproofing
Cracked foundation skirt
Sloping floors
Crawlspace issues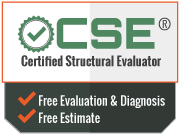 How an Interior Drain System Stops Flooding
An interior drain in the basement of your home can collect excess moisture from the walls and floors in your basement or crawl space. Once captured into the drain channel, the excess moisture will be sent into a sump pump. Once the water collects to a specified amount, the water will be pushed out and diverted away from the home. Interior drains are employed when there are floor drains that are blocked and cannot pass water, or when there is moisture getting in through windows, the cove joint , or through cracks in the exterior foundation wall.
A Certified Structural Assessment and Repair Estimate is available today, so call us to schedule an appointment.
Our local contractors are extremely proud to help our friends in our area. So please reach out for foundation repair help today. Stabil-Loc is standing by ready to help with the individual foundation needs of our customers in your local area. We have been chosen by many of your neighbors to provide prompt and professional foundation repairs.
Your local Stabil-Loc Authorized repair crew will treat your home with respect and complete all work on your foundation with care, as if we were fixing our own home. If your basement and foundation have noticed cracked exterior bricks, the chimney is leaning away from your home's structure, cracks have appeared on the interior wall, windows are hard to open, the floor is separating from the wall, your floors are sagging or uneven on your home's first floor, there are puddles of stagnant water on the basement floor , our helpful and experienced staff is here to help. We are your local Stabil-Loc licensed structural professionals.
What Will My Foundation Work Cost Me?
There are a vast array of variables that affect the cost of a home repair project in your area, including what repairs should be done, the best method for completing the task, the requred materials for the job, as well as the duration of time to finish the job properly. Regardless of the final costs, it is crucial that you hire a dedicated foundation repair company due to the great importance of your foundation and how it affects the safety and stability of your home.
The Average Repair Costs of Foundation Work
In your city, a typical repair estimate costs between $4,000 and $8,000. Of course, every repair job is unique and thus some projects will cost below $2,000 and others may be upwards of $15,000 or more.
The square footage of a family home is one of the primary aspects which affects the final costs of your foundation repair work. As you would likely expect, the larger a house is, the more concrete, beams and other materials needed to repair the foundation when compared to similar damage to a smaller family home. The underlying structure of a large building can also be more involved (with more supports, more interior foundation walls, etc) which means there could be more pieces of the foundation which need attention.
In addition to the size of a home, the other significant aspect to estimating a foundation or basement project is, typically, the type of damage which needs fixing. Many homeowners elect to have preventative work done before significant foundation damage sets in, as opposed to waiting for something bad to happen and then deal with the damage. In almost all instances, preventative work will cost you much less than jobs needing extensive damage mitigation. In all cases, however, you can be sure that ignoring a foundation or basement require issue will only cause the issues to grow worse as time passes, thereby increasing the repair cost.
Helping You Make an Informed Decision
At the first sign of cracks in your walls or foundation, we highly recommend that you reach out to your local Authorized Stabil-Loc Contractor and schedule a free assessment of your foundation. They will set a date to meet you at a time which is most convenient for you and will give you with a prompt, no-obligation estimate for any recommended repair work. Whether or not you have the work done is up to you. But in the meantime you will have the cost estimate and foundation assessment you need to make an informed decision.
Problems with your home foundation and basement can cause stress and worry. We completely understand that this is a new subject you may not know much about. Repairing a damanged foundation can someimtes include significant costs, but for the vast majority of homeowners, their house is the single largest investment they will make in their lives. Dealing with sudden foundation problems not only insures the structural integrity of your house, for years into the future. Therefore, if you have noticed any signs of on-going foundation problems (sticky doors, sticky windows, cracks in the exterior, crack in the interior sheetrock, uneven floors) we encourage every homeowner to stop what you're doing and call our toll-free number without delay for a free, no-obligation assessment and repair estimate.