We earn trust with every job because we've come to the aid of countless homeowners in our region for over a decade. Our team consists of friendly home repair evaluator. We are happy to give you a signed foundation evaluation and repair quote for homeowners who need assistance.
When you think about safety and value, your foundation is the most important part of your home, thus it is necessary to have a Stabil-Loc trained pro to inspect any potential foundation problems. The Stabil-Loc standard is to provide you with the most professional foundation services available. No one sets higher expectations than those we place on ourselves. We will always provide professional service and outstanding customer service. Call your local Authorized Stabil-Loc Dealer today. Our dedicated and professional structural inspector will provide you with a prompt assessment of your foundation's issues as well as a written repair estimate.
Repairing foundations
Sinking foundation walls
Mold and mildew
Leaking basements
Foundation cracks
Unlevel floors
Crawlspace problems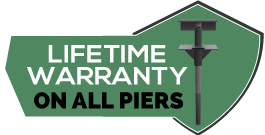 Leaky Crawlspaces
Repair for leaky and moldy crawl spaces
Homes constructed without a basement are likely to have a crawlspace instead. If a crawlspace is not sealed off from the weather and environment outside, or if the home lacks a waterproofing system, moisture and humidity can cause you headaches and serious problems for the stability of the foundation. In many cases, the crawlspace will collect water during times of heavy precipitation. Wooden supports and floor joists can experience rot and rotten wood is attractive to pests which can damage your home. Perhaps most worryingly, excess moisture can lead to the growth of molds which is widely known to cause serious health problems including eye and skin irritation, headaches, asthma and fatigue.
Problems in You Crawlspace: Warning Signs
Your have noticed common pests including termites and roaches
Your home smells musty, particularly after rain
Floors are uneven or feel as if one side is sinking
Water is visible next to the foundation footing or beneath the home itself
Cracked or sinking cinder block footing
Solutions for a Damp Crawlspace
Our multi-step approach to damp foundations beneath your home includes jacks or piers to support the joists and structure beneath your home, exterior drain tile to help divert water away from your foundation, as well as the installation of dehumidifiers for humidity control.
Our friendly and helpful team of experts can help you reduce the stress and anxiety of ongoing foundation problems with prompt, professional estimates and repair services. For your safety and peace of mind, everything our Authorized Stabil-Loc Dealers do is licensed, insured and guaranteed. Contact us today and we will meet you at a time of your convenience to discuss and assess your foundation issues. Anywhere in our community and the surrounding area, we'll be there for you. All work performed by your local Authorized Stabil-Loc Dealer is licensed, insured and guaranteed for your protection and peace of mind.
Our team of professionals are happy to assist homeowners in our area. So please contact us for foundation repair help today. Our professional team is an industry-leading firm dedicated to providing services which meet the unique structure stability needs of our customers in your local area. We are the best choice to provide the most professional and courteous foundation repairs.
At Stabil-Loc, our customers satisfaction is our #1 goal. If your home and foundation have experienced moldy and musty smells especially after rain, uneven floors or the feeling that one side of your home is sinking, or water is visible next to the foundation footing or beneath the home itself, cracked or sinking cinderblock footing, or unwanted pests including termites and roaches can be seen entering and exiting the crawl space , our helpful and experienced staff is here to help. We are your locally-owned Stabil-Loc insured & licensed structural pros.
Click here for Stabil-Loc Warranty Information.
Health Problems Associated with Mold
The Importance of Waterproofing Your Basement or Crawlspace 
Moisture can result in the growth of the growth of mold and mildew in any area of the home. Water seeping into your home's basement or crawlspace and collecting in stagnant pools are some common causes for the growth of mold and mildew in your home's basement or crawl space. It is of significant importance for you to be on the lookout for signs of the growth of mold and mildew in any area of your home, especially in light of the fact that it can give rise to a wide range of health problems for homeowners and their families.
Allergies
Allergic reactions can be caused by mold spores in the air as well as the growth of black mold in your home. Those with a sensitive or compromised immune system often begin to suffer from these allergic reactions shortly after the first exposure. The level of severity of the allergic reaction generally depends on the severity of the black mold growth . Common allergy symptoms include red eyes, cough, irregularity in blood pressure, headaches, hives on skin, concentration problems, lethargy, development of rashes, memory loss and nausea. Even despite an apparent allergic reaction, in most cases, there is production of toxins in the body called mycotoxin, which may lead to nasal, skin or ocular irritation.
Respiratory Infections
Those suffering with chronic lung disorders may suffer from acute infections and associated complications as a result of exposure to toxic molds. Due to the toxic odor, it's quite common that people can also begin to experience acute reactions , for example, respiratory issues and fever. Some of the more common respiratory problems include asthma, uneasiness in respiration and even bleeding in lungs.
Pain and Urological Issues
In cases of long term exposure to molds, some people also suffer severe pain and function issues related to their disgestive systems and urological areas. In many area homes, homeowners report of several issues including urinary tract infections, pain in internal organs such as liver, problems in urination, digestion problems and more.
Eye Problems
There are various typical problems of the eye that are caused by allergic reaction resulting from contact with black mold. Inflammation, redness, itchiness and irritation in and around the eyes are the common symptoms of an allergic reaction due to the presence of mold in your home's air. It is wise to ask your family physician about mold reactions. Eye drops, antihistamines and cold compresses can provide relief from these bothersome issues.
Lung problems
Exposure to mold or breathing in air infected with mold spores can give rise to a significant number of lung problems such as Hypersensitivity Pneumonitis Lung Fibrosis, and Aspergillosis. Family members affected with such conditions can experience tightness in chest and lungs, mild-to-severe chest pain, and an increased amount of phlegm. The immune system creates larger amounts of mucus in order to lower the amount of mold spores entering the lungs, and expel them out of the lungs through phlegm.
Taking care of a mold problem in your house is vital for your family's health. If you or someone you know needs help with a potential mold problem, or if you need professional foundation repair, please call us right away!