Foundation problems can be stressful. But your local Stabil-Loc contractor has provided professional foundation and basement repair services for homeowners just like you in our area ever since our office opened. Our consists of professional construction repair pros. We will give homeowners a no-obligation home assessment and quote for homeowners who need help.
When you think about safety and value, your home's foundation is the most structurally significant part of your home, so it is critical to have a professional to inspect your home's potential foundation issues. Our professionally-certified repair crews excel at providing prompt, professional repair service and peace of mind for our customers. The Stabil-Loc standard is to provide you with the most professional foundation services available. Please call your local Stabil-Loc Authorized Dealer today for a free no-obligation appointment.
Sinking bricks
Repairing foundations
Basement Waterproofing
Sloping floors
Cracks in a foundation wall
Mold infestation
Crawlspace issues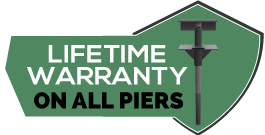 Leaning and Bowed Basement Walls
Leaning Basement Walls
A curved wall that is leaning into your basement is known as a bowed wall. This surprisingly common basement concrete problem is is the main symptom of a buildup in hydrostatic water pressure from the ground surrounding your foundation. Excessive water pressure is created when the ground surrounding your foundation becomes heavy with water and swells after heavy rainfall or snow-melt. The swollen ground increases pressure against the foundation and will likely manifest as the wall bowing into the basement space. In many cases, damaged concrete will allow cracks to open on the damaged wall which invariably allows moisture to seep inside your basement.
How to Know if You Have Bowed Walls
Walls are bowing or tilting into the basement
Cracks appear on effected walls
Water seeping through the cove joint in the damaged area
Basement Wall Repair
If crackes and fissures have appeared in basement walls can be sealed using a waterproof epoxy injection.Our goal is to provide you with the most prompt and professional foundation repair services available in our service area. Please contact us today for a free assessment and written repair estimate. At Stabil-Loc, we see all kinds of foundation and basement repair projects. And we know more than most that foundation problems can be very stressful. But our certified foundation professionals will guide and assist you through the entire process, with clear explanations about your foundation issues and an easy-to-understand plan of action to get your home fixed up.
Our team of professionals are proud to guide and support our friends in our area. So please contact us for foundation repair professionals today. Our professional team is an industry-leading firm dedicated to providing services which meet the unique foundation needs of our customers in your local area. We bring years of experience to every project as we provide licensed, certified and guaranteed foundation repairs.
A significant portion of your home's value is related to the stability and integrity of your home's foundation. If your basement and foundation have experienced puddles of water on the basement floor, water stains on walls and floors, water damage on the outside of stored boxes, the presence of mold and mildew, musty and moldy odors, or water standing next to your foundation , our dedicated staff will do everything in their power to assist you. We are your local Stabil-Loc licensed structural specialists.
Click here for Free Certified Structural Evaluation of your home.
Basement Waterproofing
Controlling Moisture Under Your Home
If you find standing water under your house during periods of heavy precipitation, it indicates a problem that should be remedied quickly before it causes more serious and expensive foundation damage. With the help of gravity, water will always reach any crack. Moisture will seep into your home through cracks, the cove joint, or even over the top of the foundation itself. Sometimes moisture enters your house through a clogged floor drain or leaky basement window.
Water entering your house will damage everything in its path, leaving stains on floors, walls and stored boxes. After a time, the seepage will eventually cause wooden joists and beams to weaken and rot. Such damage to the overall integrity and structure of your home can lower the market value of your home. Moreover, moisture allows for the growth and spread of mold and mildew which can make your family sick.
Warning Signs of a Potential Waterproofing Problem
Water stains on walls and floors
Puddles of water on the floor
Water damage on the outside of stored boxes
Musty, moldy odors
Water collecting next to your foundation
The presence of mold and mildew
Solutions
For water-related problems, we install exterior membranes on the exterior of your foundation, interior drainage systems to collect water under your house, and sump pumps to divert water away from your home .
Foundation repair is critically important to the stability and value of your home. As such, we understand you will seek out multiple assessments and repair estimates. Please contact us right now and we'll schedule a time to meet you anytime, morning, afternoon or evening, at a time of your convenience. The last thing you should do as a homeowner is ignore the warning signs of ongoing foundation and basement problems. Protect the value of your home by addressing and repairing all foundation and basement issues. Call us today for a free assessment and estimate.