Our team is happy to have delivered high quality foundation repair services for countless homeowners in our area ever since our office opened. Our crew consists of professional home repair evaluator. We will give homeowners a no-obligation home assessment and quote for homeowners who need foundation repairs.
If you are experiencing foundation damage or basement waterproofing issues, please be aware that, your foundation is the most important part of your home, so it is vitally critical to request a dedicated and friendly foundation professional to take a look at your potential foundation damage. Our professionally-certified repair crews excel at providing prompt, professional repair service and peace of mind for our customers. For your protection and peace of mind, everything we do is licensed, insured and guaranteed. Call us right away to schedule a free, no-obligation structural evaluation and repair estimate from your local Authorized Stabil-Loc Dealer.
Floors which are uneven
Foundation cracks
Mold infestation
Problems with a home foundation
Basement Waterproofing
Sinking foundation walls
Crawlspace problems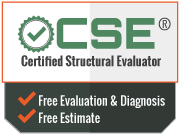 Basement Walls Which Are Bowed
Leaning Basement Walls
A warped wall that is leaning into the area beneath your home is known as a bowed wall. This surprisingly common basement concrete problem is is the main symptom of hydrostatic pressure emanating from the soil soil surrounding your foundation. Hydrostatic pressure is created when the ground surrounding your foundation becomes heavy with water and swells after heavy rainfall or snow-melt. The swollen ground exerts pressure against the foundation and will usually cause the wall to bow or lean into the basement space. In many cases, cracks also form on the damaged wall which invariably causes moisture and water to seep through your foundation and into your basement.
How to Know if You Have Bowed Walls
Basement walls are bowing or tilting
Water seeping through the cove joint
Cracks appear on effected walls
Bowed Wall Solution
Cracks in damaged concrete can be filled using a water-resistant epoxy injection.Foundation repair is critically important to the stability and value of your home. As such, we understand you will seek out multiple assessments and repair estimates. Please contact us right now and we'll schedule a time to meet you anytime, morning, afternoon or evening, at a time of your convenience. Our experienced team of foundation and basement contractors is ready to take care of any structural problems beneath your home.
We are extremely proud to assist our valued customers in our area. So please call us for foundation repair help today. The friendly foundation professionals of Stabil-Loc are committed to providing repair services for the singular structure stability needs of our valued customers in your local area. We will always provide certified and insured foundation repairs.
Our certified foundation professionals will help guide you through the process, with clean explanations about your foundation problems and an easy-to-understand plan of action to get your home fixed up. If your home and foundation have seen cracked exterior bricks, the chimney is leaning away from your home's structure, cracks have appeared on the interior wall, windows are hard to open, the floor is separating from the wall, your floors are sagging or uneven on your home's first floor, there are puddles of stagnant water on the basement floor , our friendly and dedicated professionals can handle any foundation problem. We are your locally-owned Stabil-Loc authorized repair specialists.
Click here for Free Certified Structural Evaluation of your home.
Basement Waterproofing
Controlling Moisture Under Your Home
If runoff finds a way into your basement during periods of heavy rain or snow-melt, it indicates a problem that should be attended to promptly before it causes more serious and expensive foundation damage. Due to the pull of gravity, water will always discover any opening. Moisture will seep into your home through cracks, the cove joint, or even over the top of the foundation itself. Sometimes moisture enters your house through a leaky basement window or upward through a clogged floor drain.
Water entering your house will damage anything it comes in contact with, leaving stains on floors, walls and stored boxes. After a time, the seepage will eventually cause wooden support beams and floor joists to rot and become weak. Such damage to the wooden structure of your home can potentially lower the value of your house. Moreover, moisture allows for the growth and spread of mold and mildew which can make your family sick.
Warning Signs of a Waterproofing Problem
Water damage on the outside of stored boxes
The presence of mold and mildew
Musty, moldy odors
Standing water on the floor
Water stains on walls and floors
Stagnant water next to your foundation
Solutions
For waterproofing problems, we install exterior membranes on the area where you foundation meets the soil, interior drainage systems to handle water beneath your house, and sump pumps to remove water via drainpipe to a distance from your house.
You'd be hard-pressed to find a more professional and reputable foundation repair company in our city. Our work is guaranteed and our staff is licensed and insured. Contact your local Authorized Stabil-Loc Dealer right away to schedule a free, no-pressure, no-obligation repair estimate. Don't let foundation problems linger. Contact us today for a free, no-stress estimate on your home repairs. Our team of professional foundation repair crews will work to restore your home's foundation to its original stability in a quick and professional manner.