Foundation problems can be stressful. But your local Stabil-Loc contractor has saved countless homes and foundations for worried property owners in our area since we started our business. Our organization consists of friendly foundation repair experts. Stabil-Loc will always provide a written assessment and repair estimate for who need foundation repairs.
If you are concerned about safety and stability, you should know that, your foundation is the most important part of your home, and so it is critical to have a Stabil-Loc trained pro to your foundation issues. We look forward with great enthusiasm to meeting you and repairing your foundation with prompt work, a fair price, and a best-in-the-industry guarantee. We've help countless homeowners over the years and we look forward with great enthusiasm to helping you. If you see cracks in your walls or foundation or notice uneven floors, call our local or toll-free number to setup an on-site assessment and free repair estimate.
Foundation cracks
Sloping floors
Problems with a home foundation
Mold and mildew
Water or humidity in a basement
Crawlspace issues
Sinking bricks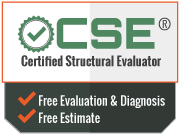 Let Us Help Keep Unwanted Moisture Out of Your Home's Basement with a Waterproof Exterior Membrane
This waterproofing product is installed on homes that have problems with excess precipitation or runoff seeping in due to wall cracks or cove joint leaks. Water can also enter through basement windows and porous concrete. This product is installed over the exterior of the foundation blocks and diverts moisture to a drainage pipe. Moisture in the channel is sent into the sump pump system where it will eventually be pushed out and away from the home.
Call us today for all your Foundation Repair and Basement Waterproofing needs!
Our team of professionals are happy to help our valued customers in our area. So please reach out for foundation repair professionals today. For years we've been standing by ready to help with the unique structure stability needs of our customers in your local area. We have been chosen by many of your neighbors to provide licensed, certified and guaranteed foundation repairs.
A significant portion of your home's value is related to the stability and integrity of your home's foundation. If you have seen uneven or sagging floors in the first floor of a house, musty odors emanating from the basement, insects and pests are colonizing your crawlspace, water standing around the footing of the home, cracked brick on the outside of your home, puddles of water on the basement floor, visible cracks on the interior drywall, windows and doors that are hard to open or close, baseboard and floor separation, or a noticeable sinking of one or more sides of your home , we have the tools, knowledge and experience to fix your home. We are your locally-owned Stabil-Loc licensed repair professionals.
Foundation Repair
Foundation repair services executed by certified and dedicated foundation professionals.
In the construction industry, there are three main types of foundation: monolithic, block, and poured. Regardless of the foundation type beneath your home, your foundation can experience several types of problems relating to cracked basement walls, cracked basement floors, ground settlement and bowed walls. Your local Stabil-Loc Contractor can fix every foundation problem. Your home's foundation is solely responsible for providing supporting for the weight of your home above the ground. When homeowners become worried there is evidence of a foundation repair problem, it could very easily cause a reduction in structural integrity, which can reduce the overall value of your house while possibly creating less-than-healthy conditions in the interior of your home due to the the presence of mold and mildew.
Foundation Repair: The Warning Signs
Sticky windows and doors
Separation between the baseboard and floor
Sagging, uneven floors
Cracks in exterior bricks
Tilted chimney
Cracks on interior drywall
Noticeable sinking of one or more sides of the home
Please call our local or toll-free number to setup an on-site assessment and free repair estimate. We look forward with great enthusiasm to repairing your foundation to its original integrity with prompt work, a fair price, and a best-in-the-industry guarantee. The safety and satisfaction of our customers comes first. All work performed by Authorized Stabil-Loc Dealers is guaranteed, so please call us today and we will schedule a free, no hassle, on-site assessment. Your foundation is the single most important part of your home and you will not find a more professional and dedicated team of foundation repair experts in town.