Is your foundation uneven? Is your basement leaking? Stabil-Loc has fixed foundation problems for people just like you in our city for many years. Our crew consists of professional structural repair pros. Our business exists to provide a no-obligation assessment and repair estimate for customers who need assistance.
If you are concerned about safety and stability, you should know that, your home's foundation is the most important part of your home, so it is vitally critical to ask a knowledgeable foundation expert to your foundation damage. The last thing you should do as a homeowner is ignore the warning signs of ongoing foundation and basement problems. All work performed by your local Authorized Stabil-Loc Dealer is licensed, insured and guaranteed for your protection and peace of mind. If you see cracks in your walls or foundation or notice uneven floors, call our local or toll-free number to setup an on-site assessment and free repair estimate.
Cracks in a foundation wall
Mold infestation
Sinking bricks
Repairing foundations
Basement Waterproofing
Unlevel floors
Crawlspace problems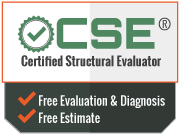 Dry Your Basement with a Sump Pumps
Sump pumps are a great product to keep your basement or crawl space dry. This waterproofing product is used to collect water from exterior or interior drain channels which is then sent to a basin. Once the water reaches a given volume, the water will be pumped out and away from the home. Different sizes and capacities are for sale, and the size needed for your drainage problem will depend on the size of the basement or crawl space. The larger the home, the greater the opportunity for excess water to collect. The sump pumps run on electricity, but we also include battery backups in the event of a power failure.
Our professionally-certified and Authorized Stabil-Loc Dealers and repair crews provide prompt, professional repair services and, most importantly, peace of mind for our customers. Contact us today and we will schedule a free, on-site assessment at a time of your convenience anywhere in our city and our surrounding service area. Don't let the stress of a lingering foundation or basement repair issues bother you any longer.
We are happy to assist our valued customers in our area. So please give us a call immediately for foundation repair pros today. Our professional team is committed to providing repair services for the unique structural needs of our customers in your local area. We only provide the most professional and courteous foundation repairs.
Your local Stabil-Loc Authorized repair crew will treat your home with respect and complete all work on your foundation with care, as if we were fixing our own home. If your basement and foundation have noticed uneven floors, cracks in the interior drywall, sticky windows and doors or standing water in the basement or crawlspace , Stabil-loc contractors are available to repair your home. We are your local Stabil-Loc insured & licensed structural professionals.
The Basics of Foundation Repair Estimation
There are numerous variables that affect the cost of a home repair project in your area, including what specific tasks need to be done, exactly how those tasks should best be completed, any materials and supplies needed to complete the job, while also considering the duration of time to finish the job properly. Regardless of the overall costs, it is critical that you hire a experienced foundation repair business because of the importance of your foundation and how it affects the safety and value of your family's home.
Average Range of Foundation Repair Costs
You want numbers, so here are numbers. We estimate the average repair contract in your area costs in the range of $4,000 up to $8,000. Of course, every project is different and thus some projects will cost under $1,000 while larger commercial projects might cost over $20,000 or more.
The overall size of your house is one of the main variables influencing the final costs of your foundation repair work. Logic tells us that, the larger a house is, the larger the amount of materials required to complete the foundation repairs when compared to comparable damage to a smaller family home. The foundation structure of a large house can also be more complex (sometimes with extra interior walls, more supports, beams and piers) which means there could be more elements of the foundation which need attention.
Beyond the scope and the size of a home, the other germaine aspect to estimating a job is, typically, the type of damage which needs fixing. Many homeowners wisely elect to have preventative work done prior to major foundation damage, as opposed to waiting for something bad to happen and then mitigate the damage. In almost all instances, preventative work will cost less than jobs requiring extensive damage mitigation. In all cases, however, you can be sure that ignoring a foundation or basement require issue will only allow the issues to grow worse over time, thereby increasing the repair cost.
To Make an Informed Decision, Information is Key
At the first sign of problems with your foundation or basement walls, we highly recommend that you reach out to your local Authorized Stabil-Loc Contractor and request a free assessment of your foundation. They will set an appointment to meet you at the time of your choosing and will provide you with a prompt, written estimate for the total recommended repair work. Whether or not you have the work done at that time is up to you. But in the meantime you will have the assessment and repair estimate you need to make an informed decision.
Learning that your foundation has problems and needs repair can be stressful. We see it in our customers everyday. The associated cost of dealing with problems in your homes structure can be high, but your house is perhaps the most significant purchase you will make. Fixing foundation problems not only insures the safety of your house, it ensures your home maintains its best market value for years into the future. Therefore, if you have seen any signs of on-going foundation problems (cracks, leaks, uneven floors, or sticky windows) we encourage every homeowner to pick up your phone and give your local Stabil-Loc Contractor a call straight away for a totally free assessment of your home and foundation and a prompt written repair estimate.