Stabil-Loc is an industry-leader who has come to the aid of concerned homeowners in our region since we started our business. Our organization consists of friendly building repair pros. Our team is dedicated to provide a written foundation evaluation and repair quote for who need foundation repairs.
When you think about safety and value, your foundation is the most structurally significant part of your home, which means it is necessary to schedule a knowledgeable foundation expert to your foundation problems. We will always give professional service and outstanding customer service. Don't let the stress of a lingering foundation or basement repair issues bother you any longer. Contact us today and we will schedule a free, on-site assessment at a time of your convenience.
Cracks in a foundation wall
Floors which are uneven
Home foundation issues
Mold and mildew
Water or humidity in a basement
Crawlspace issues
Sinking foundation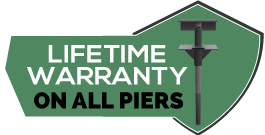 Stabilize Your Crawl Space with Jacks
If the foundation of the structure begins to sag, or if the supporting structure beneath the home begin to sink, then stabilizing jacks should be needed to support the structure of the home. They lift and support sinking joists and floorboards, restoring them to the originally designed position, and preserving the structural integrity of the home. Our crawl space stabilizing jacks are made of durable, high-quality materials, which will eliminate additional issues.
Our professionally-certified and Authorized Stabil-Loc Dealers and repair crews provide prompt, professional repair services and, most importantly, peace of mind for our customers. Contact us today and we will schedule a free, on-site assessment at a time of your convenience anywhere in our city and our surrounding service area. Don't let the stress of a lingering foundation or basement repair issues bother you any longer.
Our local contractors are extremely proud to provide foundation repair services to homeowners in our area. So please reach out for foundation repair assistance today. We are an industry-leading firm dedicated to providing services which meet the unique structural needs of our customers in your local area. We will always provide licensed, certified and guaranteed foundation repairs.
Our certified foundation professionals will guide and assist you through the entire process, with clear explanations about your foundation issues and an easy-to-understand plan of action to get your home fixed up. If you are experiencing puddles of water on the basement floor, water stains on walls and floors, water damage on the outside of stored boxes, the presence of mold and mildew, musty and moldy odors, or water standing next to your foundation , Stabil-loc contractors are available to repair your home. We are your locally-owned Stabil-Loc insured & licensed repair specialists.
Click here for Free Certified Structural Evaluation of your home.
Foundation Repair
Foundation repair services executed by experienced and dedicated foundation authorities.
In the construction industry, there are three main types of foundation: poured, block, and monolithic. Regardless of the type of foundation your home has, your foundation can experience many types of problems relating to cracked basement walls, cracked basement floors, ground settlement and bowed walls. Your local Stabil-Loc Contractor can fix any foundation damage. Your foundation is fundamentally responsible for supporting the weight of the home above the ground. Any time there is evidence of a foundation weakness, it could very easily cause a failure of structural integrity, which can reduce the overall value of your house while also creating unsafe conditions inside your home because of the presence of mold and mildew.
Foundation Repair: The Warning Signs
Cracks on interior drywall
Windows and doors that stick in their frames
Baseboard and floor separation
Noticeable sinking of the foundation
Floors which sag or are uneven
Cracked brick
Tilted chimney
At Stabil-Loc, our customers satisfaction is our #1 goal. Our crew of professionals will consistently excel at customer service, prompt communications, and professionally-certified foundation and basement repairs for our friends and neighbors. Contact us today to schedule an appointment. We look forward with great enthusiasm to repairing your foundation to its original integrity with prompt work, a fair price, and a best-in-the-industry guarantee.