The friendly foundation professionals of Stabil-Loc have saved countless homes and foundations for concerned homeowners in our region for over a decade. Our crew consists of friendly home repair experts. We will give you a written evaluation and written repair estimate for our customers who need help.
If you are experiencing foundation damage or basement waterproofing issues, please be aware that, your foundation is the most critical part of your home, which means it is critical to request a dedicated and friendly foundation professional to your potential foundation damage. A strong, stable and secure structure is vital to maintaining your home's market value. You can protect the value and future sale of your home by quickly addressing and repairing any current foundation and basement issues. Call either of our numbers (local or toll-free) to schedule a free on-site assessment and structural evaluation.
Foundation Repair
Sinking foundation walls
Mildew and mold growth
Basement Waterproofing
Cracked foundation skirt
Sloping floors
Problems with a home crawlspace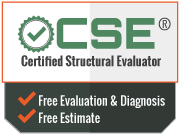 Crawl Space Dehumidifiers
Mold and mildew thrive in damp, dark environments. On the other hand, lower humidity levels means there are lower chances for mold or mildew to develop. The black mold is known by medical professionals to trigger everything from respiratory problems, flu-like symptoms, and skin rashes. We can easily control moisture levels in your crawl space with a dehumidifier. A moisture-free crawl space is a healthy basement. A dehumidifier is an effective solution for removing wetness from under your home. The device extracts excessive humidity from the air beneath your home. Lowering the level of humidity below your home mean there is a lower chance of mold or mildew taking hold in your crawl space. Mold and mildew are the number one cause of indoor air pollution and have been linked to significant health-related issues.
The safety and satisfaction of our customers comes first. All work performed by Authorized Stabil-Loc Dealers is guaranteed, so please call us today and we will schedule a free, no hassle, on-site assessment. Your foundation is the single most important part of your home and you will not find a more professional and dedicated team of foundation repair experts in town.
Our team of professionals are proud to provide foundation repair services to homeowners in our area. So please call us for foundation repair pros today. For years we've been standing by ready to help with the singular structural needs of our valued customers in your local area. We are the highest rated company to provide prompt and professional foundation repairs.
Our friendly and helpful team of experts can help you reduce the stress and anxiety of ongoing foundation problems with prompt, professional estimates and repair services. If your home and foundation are suffering uneven or sagging floors in the first floor of a house, musty odors emanating from the basement, insects and pests are colonizing your crawlspace, water standing around the footing of the home, cracked brick on the outside of your home, puddles of water on the basement floor, visible cracks on the interior drywall, windows and doors that are hard to open or close, baseboard and floor separation, or a noticeable sinking of one or more sides of your home , our licensed contractors are standing by, ready to help. We are your locally-owned Stabil-Loc certified structural professionals.
Crawl Space Leaks and Floods
Repair services for leaky and moldy crawl spaces
Any home constructed without a basement is likely to have a crawlspace instead. If a crawlspace is not sealed off from the outside elements, or if the home lacks a waterproofing and drainage system, moisture and humidity can cause you headaches and serious problems for the foundation and home. In many cases, the crawlspace will suffer flooding during times of heavy precipitation. Wooden supports and floor joists can experience rot and rotten wood is attractive to pests which can damage your home. Perhaps most worryingly, excess moisture can lead to the growth of molds which is widely known to cause serious health problems including skin irritation, asthma, eye irritation, fatigue, and headaches .
Crawlspace Problems: Common Warning Signs
The cinder block footing is cracked or sinking
Unwanted pests can be seen in the crawl space
The wood structure beneath your home is rotting
Musty smells, particularly after rain
Floors are uneven or feel as if one side is sinking
Water is visible next to the foundation footing or beneath the home itself
Damp Crawlspace Solutions
Our multi-step approach to damp foundations beneath your home includes the installation of dehumidifiers for humidity control, exterior drain tile to help divert water away from your foundation, as well as jacks or piers to support the joists and structure beneath your home.
Your satisfaction is our #1 goal. Our team of professionals will consistently provide excellent customer service, prompt communications, and professionally certified foundation repairs for our friends and neighbors.